---
Cultural-Tours-Bulgaria is committed to delivering excellent customer service to travelers to Bulgaria. We are dedicated and specialized to provide Balkans luxury cultural tour packages guaranteeing you the best value for your money.
Special thanks for the pictures of Bulgaria courtesy to:
– Andi and Jack Bidwell, USA
– Maxine Cashore, CANADA
– Nelida and Juan Trillo, ARGENTINA
– V. Verbeemen, BELGIUM
– Valeriano Gaddini, ITALY
– Leone How, CANADA
– Gisele Aichele, CANADA
– Jean Goh, SINGAPORE
– Alexander Dimitrov, BULGARIA
– Angel Tzvetanov, BULGARIA

The pictures of Bulgaria provided by our contributors form an integral part in the website's graphic design, as well as in our Bulgarian video gallery images.
Hi Alexandra Just to let you know that we arrived safely & on time as scheduled. There was no delay at Istanbul Airport. But it is such an old fashioned airport. I am busy today with my work & looking at my photos to edit them. All of us thoroughly enjoyed ourselves with the beautiful picturesque sceneries of mountains & lakes with the beautiful Autumn colors & the last 3 days of snow which made us feel so child like playing in the snow…. Thank you for the generous gestures, good food which were not so saltish as the food in Macedonia were much more saltish. The hotels were excellent …very centrally located. I shall catch up with you again. Thank you very much for arranging such a great tour of Bulgaria and Macedonia…. I am sending you attached our group photo with you at Matka Canyon – hope you will enjoy it.
Tourist group, SINGAPORE (2nd time travelling with us)
Just a note to say many thanks to Alexandra and her professional team. We were a little worried how a private tour in such exotic countries as Romania and Bulgaria would work out. We had never been to Eastern Europe and were a little concerned about being the only clients in a car with one or two strangers. Well… we needn't have worried. Our guides and driver were friendly, knowledgeable and very professional. This was a wonderful two weeks and we continue to sing the praises of Altours (and Alexandra) to anyone and everyone here in Australia. Alex's willingness to tailor the itinerary to suit the demanding constraints created by our other travel arrangements made the planning of the trip smooth and trouble free. Her continued monitoring and 'tour group intelligence network' whilst we were on the road meant that we sailed between potential 'tourist congestions'. We can highly recommend her services. Cheers,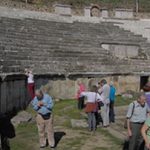 Dear Alexandra, Please forgive me for not beeing able to write to you in your own language. Diana and I are most grateful for the excellent tour of Macedonia and Kosovo that you arranged for Graham and his party. It was a shame he was unable to come with us. We enjoyed the tour of Bulgaria that you arranged in 2010 so much that we felt we must come again. George was an excellent guide, and so kind in making sure that none of us was left behind. Thank you again for all your kindness. We shall certainly recommend your tour company to our friends. Your sincerely,
East Sussex, UK (2nd time travelling with us)
ALTOURS under Alexandra's management provides an extremely well organised and informative cultural and historical tour of Bulgaria. She took great care to ensure that our interests were well catered for within our time constraints. Our guide Georgi was a true professional – knowledgeable and friendly – who gave us an excellent insight into his country's proud heritage. We unhesitatingly recommend Alexandra's company. Dear Alexandra We have such wonderful memories from visiting your country and are all the richer for learning more about its history and its people. We wish you, George, and your boys peace and joy this Christmas, and may 2014 bring you all abundant blessings. Thank you for the kindness you showed us.
Dear Alexandra, Thank you for organising such a good holiday. We're sure Graham would have been pleased with the itinerary that you've planned had he been able to come with us. We know how much hard work you've had to do finding hotels, restaurants, etc. to make our tour in Macedonia and Kosovo run so smoothly and we do appreciate your efforts. Thank you again for the TV clip and for arranging such an interesting trip. Best wishes,
East Sussex, UK (3rd time travelling with us)
Hi Alexandra, We arrived on time yesterday evening with no delay. I just cleared some of my work & am ready for emails now. I must thank you very much for the extremely generous gestures for the excellent meals in the quaint & beautiful Restaurants in Sofia & Veliko Turnovo. I just spoke to a friend who is keen to travel to Bulgaria in May next year. My friend is an excellent cook. Having tasted your excellent meals, I think they will suit her taste buds with less salt. She is keen to see the frescoes in the Monasteries. I really like Bulgaria with the interesting architecture, Monasteries & the picturesque countryside from Rila to Bansko. It looked like a mini New Zealand. Thank you for planning all the details for the food, hotels & museums. You are truly extremely efficient & caring…..I really appreciate it. We shall continue to keep in touch….. Thank you very much again for your kind generosity & detailed gestures.
Jean Goh
Tourist group, SINGAPORE
Dear Alexandra, Now that a week has passed, I'm able to reflect on the amazing tour of Macedonia and Kosovo that you and Graham created for us. Both Christopher and I would like to thank you for all the hard work and care that went into seeing those extraordinary places and beautiful monasteries, which we will remember for ever. It was really chilling to be in Kosovo and realise that violence is just under the surface and it is so very sad. Many thanks, too, to George and Branko for the splendid explanations they gave on a very complex situation. With all good wishes
East Sussex, UK (2nd time travelling with us)
Dear Alexandra, So sorry for the delay in corresponding with you. We arrived home toward the end of Sept. after a very nice long cruise. And it took until now to get organized after such a long time away. We want to thank you for arranging such a wonderful tour. We are raving about it to all our friends. Everything you arranged worked out wonderfully. Boris our guide and Kotse our driver were outstanding. We did not realize what a lovely country Bulgaria is. We especially enjoyed the archeological sites. We especially like having dinner with you and your husband the first and last nights. Delightful. I have tried to post on Trip Advisor but they don't have a touring section. I have written to them to find out how I can post it. If not, I will find a way. Also, did you receive the magazine ITN (International Travel News)? I will write to them also. Please feel free to use anything I have written. And if anyone should want to contact me, that is fine. I believe you have my telephone numbers as well as my e-mail. Again, many thanks for arranging such a personalized and delightful tour. With best regards to you and your husband,
Dear Alexandra, Thank you for organizing such an exciting golf tour in Bulgaria. The feedback from the group was very positive. I did see the announcement for the Volvo World Match Play and already sent a link to our group telling them how lucky we were to get there first! Thank you again for everything you did to make our tour in September a success. People really enjoyed themselves and the tour exceeded their expectations. Best regards